I've just been thinking a lot about Robby lately and how things will change or affect him when the baby comes and wanted to write down some of his latest little things to remember...

After Robby had been in bed for half an hour he comes up to me and says, "Mom, what comes after 199?" OH... that's why you're not asleep... okayyy... it was cute though. He loves counting and does it all the time... today it was counting by tens... He wanted to put "teens" inbetween 10 and 20 (so like 10, teens, 20, 30...) and when I tried to explain why it didn't go like that he said that didn't make sense but that's ok. He'll get it.

Robby has become so into BYU basketball - he loves going to the games with daddy when he can and watching them play on tv. He was sitting with Rob watching the game and cheering, "Come on, Davies! Come on, Carlino!" I asked Rob if he really knew what was going on and he does - cheering for the players who actually have the ball and he knows most of the main players names! It's kind of crazy. He is a fan.


One of Robby's favorite things is to go the Fitness Center and play basketball. We've been going over there just the two of us, with his little basketball, and usually his Jimmer jersey, and he is happy as a clam for at least an hour and then I have to drag him off the court. They have two baskets that are lowered so he can actually make most of his shots! It's so fun for him! And since we have a membership there it's free. Today we went swimming first and THEN played basketball - basically a perfect activity for him.
Oh yeah, the swimming - I would think that since Robby is such a nervous nellie that he'd be super scared of jumping off diving boards but he loves it. I know he's done it lots of times but since we haven't swam since the end of August I thought today he'd just be getting used to the water today and figuring out swimming again but he did that for a few minutes and wanted to get right up on that board! He just surprises me! He was like, "oh I don't know.. it's scary..." and then got his determined face on and just walked to the edge and jumped right off!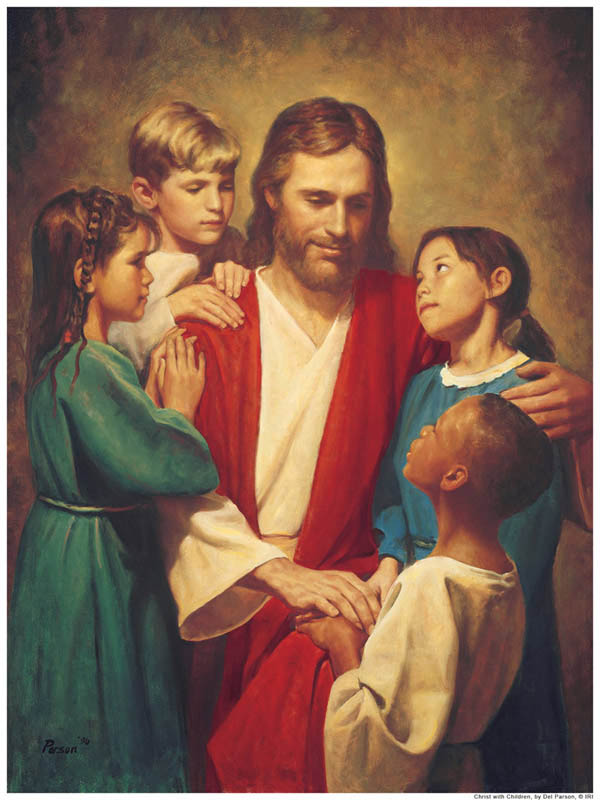 He brought home a little picture with the
Articles of Faith
on the back and said, "we're supposed to memorize these." So he took it seriously and we've been working on them at night after we read scriptures. We spent about a week repeating #1 and he had it down and then in just one day he totally memorized #2. It's just been really sweet to see him working on this and caring about it.
At the beginning of the year when he first went to CTR4 he was pretty nervous and feeling anxious... he got in bed with me that morning and was telling me how nervous he was and he didn't want to go. I asked him if we should say a prayer to feel better about it and we did. Right after the prayer I remembered he'd been listening to his primary music CD and he likes the song about Nephi's Courage and so we talked about how he could be brave like Nephi and go to class. Also, when he got to class and saw the littler newer sunbeams he felt like a big kid and did better.
I'm just so proud of our little Robby and he is such a good boy. I feel so lucky to be his mom! I will miss the time we have just the two of us and I want him to know that he will always be so special to me and loved.
WE LOVE YOU ROBBY!!!!!!!!!!